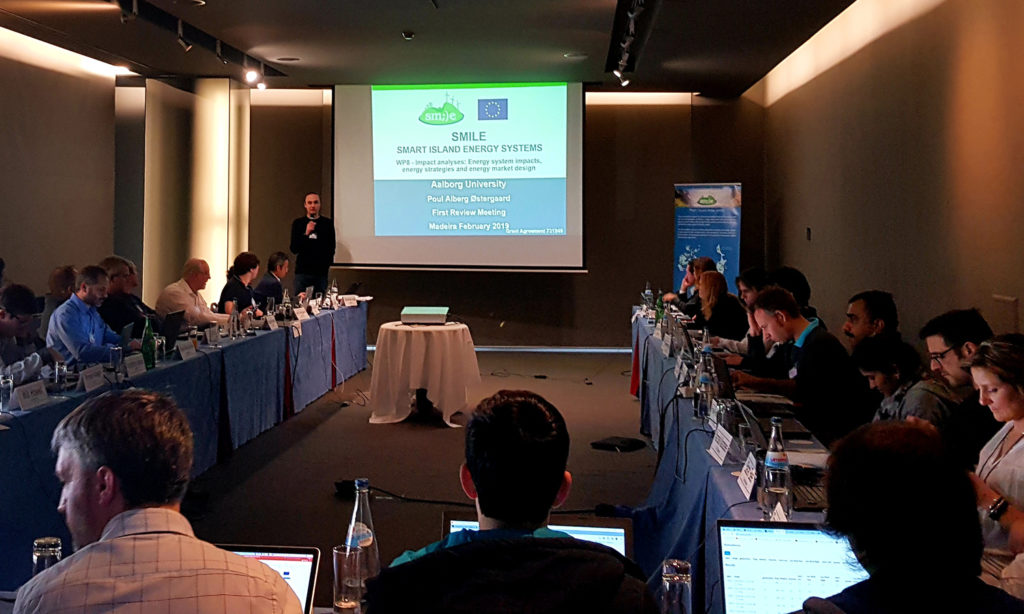 The 1st SMILE Project Review meeting was successfully held on 7th and 8th of February 2019.
SMILE project submitted its 1st Periodic Report, covering months 1-18 of the project to the European Commission at the end of December 2018. This was followed by a Review Meeting in Madeira which started on 7th of February. The team presented in detail the work done so far, demonstrating results, facts and achievements.
The meeting was led by Mariana Stantcheva (Project Officer, EC) and attended by all project partners. The first day started with project coordination and financial issues by RINA and went on with the overview of enabling technologies developed by Lithium Balance A/S, Sunamp Limited, Bright Curiosity Lda, Route Monkey, VCharge (subsidiary of OVO Energy UK Ltd). Before lunch break the demonstrators presented the main achievements from the reference period: Samsø by Samsø Energiakademi, Orkney by Community Energy Scotland and Madeira by ACIF-CCIM. After lunch LCA/LCC, socio-economic models were shown by Centre for Research & Technology Hellas (CERTH) and technical models by Aalborg University. Legal, regulatory issues were presented by University of Groningen, Faculty of Law. End of the day 2 pilots from Madeira were visited: electric charging points and famous electrical tukxis! Same evening the team met at Beerhouse Restaurant for a social dinner.
Second day started with a visit to Fazedinha- pilot related to V/F control. In the afternoon AAU presented the objectives and progress of impact analyses. In the end SEV presented the dissemination activities done so far and the communication strategies.
The first impression of the team after the review completion was that of satisfaction and recognition of the great job done so far in spite of additional precautions and potential risks.
The Smile team thanks to Marco Vieira and Isabel Andrade for the organization and the project officer for very productive discussions in our next half way ahead.